Valentine's Day is universally hated by single people. However, the day before Valentine's Day can be just as special as the holiday, and perhaps less hated. 
Amy Pohler's character Leslie Knope, from the mockumentary-style sitcom Parks and Recreation invented the holiday that is all about women celebrating women: Galentine's Day. Though the holiday has romantic roots, February doesn't have to only be about romantic love. 
February 13 marks the day that City-council woman Ms. Knope celebrates "lady-friends." Valentine's Day gets more and more elaborate every year, but with Galentine's Day, it's the thought that counts. Here are three simple ways for you to do Galentine's Day – or even Palentine's Day –  right this year.
Quality time 
Grabbing coffee or brunch, watching a chick-flick, or shopping with a couple of friends can be the perfect Galentine's activity. Quality time with a friend or group of friends just simply can't be bought. Catch up with and learn new things about your gal pals. This is the best way to go if you can!
Text the most important women in your life
Leslie Knope is one of the best "affirmers" in the world. She never failed to tell her bestfriend Ann that she was a "beautiful tropical fish," a "poetic, noble land-mermaid," a "rainbow infused space unicorn," a "beautiful, rule-breaking moth," or a "perfect sunflower." Send out a quick 'I appreciate you!" or 'Love you lots!" message to your mom, grandma, sisters, cousins, and friends. You can also send a Leslie Knope GIF if you can't pin down the right words.  Who knows who could need a little cheering up around this time of year!? You can't go wrong with a cute Bitmoji or a pink heart. 
Little gifts for your gal pals
If you have some time and money on your hands, a small personal gift to remind your friend why you love them will do just the trick for Galentine's Day. A gift card to their favorite place to eat, a framed picture of the two of you, or just a cute card and their favorite candy will work. A heartfelt letter about why you love them is a perfect gift that is both free and from the heart. 
When it comes to Galentine's Day, there is no wrong way to go. Just lift your friends up and celebrate what makes being women great. In the words of Leslie Knope: "What's Galentine's Day? Oh, it's only the best day of the year!" Happy Galentine's!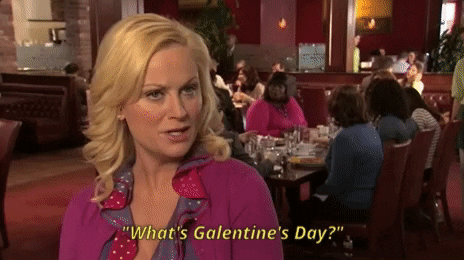 "How to Celebrate Galentine's Day"

,